Meet-a-Mom Jessica Pitts!
Owner of The Kids Creative Space
How long have you lived in the Shawnee Area? Why did you choose to live here?
We moved to Shawnee from Atlanta, GA in the summer of 2014. We had just had our first baby who was around 6 months old at the time and we have family local to the area. Shawnee happened to be a central-ish location for my husband's job and our family. In all honesty, we got so lucky with Shawnee. We had no idea where we wanted to live and we ended up here. We absolutely LOVE it!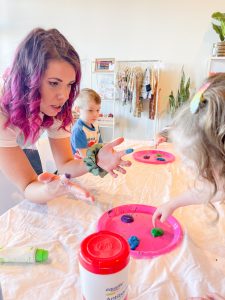 How many children do you have and what are their age(s)?
I have 3 daughters: 8 years old, 6 years old, and almost 3 years old.
What is your favorite part about motherhood?
Probably watching them grow into little people and develop their own sense of identity and personality. They are each so very different. I knew that I loved the baby and toddler stage, but I didn't know just how much I would love the elementary stage too. The older two make me belly laugh on the regular. I also really love watching them find their niche. My oldest is an amazing artist and swimmer. My middle little loves dance. The little little one loves her music class. We try lots of things. It's really cool to watch them find their "thing" and then work towards growing and developing those skills. I feel honored to get to be a part of that for them.
What's one thing people would be surprised to know about you?
I rappelled down a 20 story building in the heart of Atlanta to raise money for Special Olympics Georgia. And I was pregnant. Although to be fair, I didn't know that I was pregnant.
Anyone special you'd like to thank for helping you with motherhood?
My husband. He's an amazing father and life partner. I hadn't ever really seen what an active father looked like until I saw him. It was healing for me. He truly is a partner in parenting which makes motherhood sweeter. 
What is your favorite family activity in the Shawnee Area?
We are OBSESSED with Moonlight Market. Obsessed. We never miss one. We are counting down the days until it comes back (which is May 19th by the way).
Tell us about your Mom-owned business…
The Kids Creative Space is a place for children (birth through elementary) to explore creative arts experiences in the modalities of music, movement, and making. I offer classes and summer camps in partnership with local businesses.
I'm piloting two 6 week programs at Wyld Roots Wellness Studio in Shawnee starting Wednesday, April 13th. One is called Toddler Creatives (ages 1-3) and it meets from 10:00-10:50am. The other is called Preschool Creatives (ages 3-5) and it meets from 11:00-11:50am. I offer summer camps that will be at the Shawnee Civic Centre through Shawnee Parks and Recreation. I have a SUPER fun event planned with Servaes Brewing Company on April 15th from 1:00-2:15pm for Elementary Creatives (age 5-10). It's a 75 minutes experiential class all around Aaron's Craft Soda where we write songs, make soda labels, and taste test different sodas.
I center each class or camp around a specific theme. We spend a third of our time in active music-making experiences (e.g. singing, instrument play, songwriting), a third with movement (e.g. gross motor stories, movement with props, parachutes, free dancing), and a third with making (e.g. painting, building, stamping, coloring). I like to call it making instead of art because I prefer the open-endedness of the word.
Sometimes our making moment will be art, but sometimes it won't. Sometimes it will be building with blocks or playing with playdough. Also I just really like the alliteration of the words Music, Movement, and Making. My whole programming really is about helping our children find and express their own innate creativity. To be creative is to be brave. I believe in the accessibility of the modalities I have chosen. You don't have to be elite to make music, move your body, or create.
What made you want to become a Mompreneur?
I had this heart dream years ago and I could not get it out of my head even though I tried. I just didn't really think that I had what it would take to chase my dreams. I had A LOT of fear and my fear was louder than my dreams. Then the pandemic happened and that changed everything for me. I knew it was now or never. So in December of 2021 I quit my job and in January of 2022 The Kids Creative Space was born. I have no regrets. It has already been the most beautiful, fiery journey and I've only just begun.
How do you juggle this venture, while being a mom?
It's not easy, but what in life is easy? I think we all just kind of choose our hard. Being a stay at home mom is hard. Being a working mom is hard. I know first hand about both of those. I boundary up as much as I can. I have protected, sacred work time and protected, sacred home time as well. When I have my protected, sacred home time, I'm better able to be fully present with my girls. In this season of life, I'm trying for quality over quantity. I would rather have 10 minutes of actively engaged, fully present time with my girls than an hour of me being distracted and trying to multitask the business and motherhood. (Don't get me wrong, the latter still happens too. But I try to limit it as much as I can. We're all just doing the best we can and that's okay.)
Any advice for other mom's thinking about starting a business?
At some point your desire, passion and purpose will become bigger than your fear of failure. When that happens it's time to take the plunge. So do it. We need you out here. Do it.