How long have you lived in the Shawnee Area? What made you decide to live here? 
We built our home 21 years ago. We love the small town atmosphere but still being close to restaurants and shopping 
How many children do you have and what are their age(s)? 2 Boys 21 and 23 years old 
What's your favorite family activity (in Shawnee Area)? Now that the kids are older – probably going out to eat and one of the restaurants.  When they were little, we went to Shawnee Mission Park.  
Where's your favorite place to eat and/or shop in your town? We love Sushi Mido.
One thing people would be surprised to know about you…  I will not watch a movie if I think that I may cry.  I cry at commercials. LOL     
Anyone special you'd like to thank for helping you through parenthood? My parents stepped in to watch the kids while we could go on vacation just the two of us. It was wonderful to have someone I trusted so I could have some time to relax. 
Are you involved in a business venture, a local organization, a creative endeavor, or in the corporate world? Please share! I founded The Small Hinge in Bonner Springs in 2017. We are a Boutique and Creative Studio in partnership with Avenue of Life – a non profit that is working to eliminate generational poverty in Wyandotte County. We take items that Avenue of Life cannot use and we repurpose or sell as is and give the money back to Avenue of Life. We facilitate all volunteers for the Avenue of Life Upcycle Design team which include donation sorting/pricing, furniture repurposers, and the staging team. We also sell NEW clothing, jewelry and teach DIY Workshops.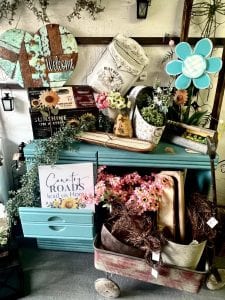 In February 2019, we expanded and opened our Creative Studio. We teach all things crafty – sign painting, paper crafts, cookie decorating and more! A portion of the workshop fees are donated to Avenue of Life as well.
How has this community been instrumental in getting you to where you are now? We have a team of volunteers that help with the Boutique. It is truly a team effort.